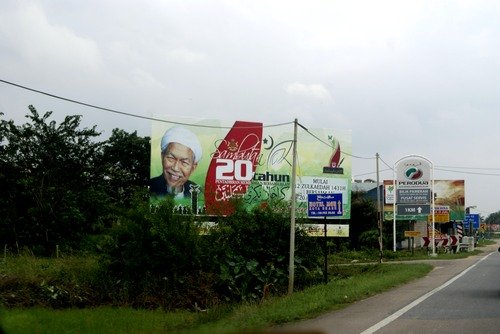 ("Membangun bersama Islam" or translated as "Growth through Islam" was the slogan of the day as we entered the state of Kelantan onwards to Kota Bahru. PAS still holding to the seat of the State Government despite the slow creep of modernization to the State)
We have reached Kota Bahru way ahead of our targeted time – we reached at 11.36 am instead of the targeted 2.00 pm. We were happy but I guess we were lucky too – there was less heavy traffic in the morning and we could have done better if we had prior experience through the old road.
Read first:-
First thing first, we had to buy something for our colleague at the hospital. Being new in town, we decided not to wander around and instead looked for the nearest supermarket. We saw one, it looked big enough to be called a supermarket. We went in, not really sure what to buy for a friend in the hospital, battling cancer.
We decided to buy some fruits – there was not much choice left. A1 commented that the onions were cheaper here than in the hypermarket near his house. There were fewer people in the supermarket, probably Sunday being a working day in Kota Bahru.
We headed back to the hospital but spent almost 20 minutes looking for a parking spot. Such a big modern hospital but there was not enough parking bays – some even double-parked whilst the rest took the easy route of parking along the main road. A large portion of the paid car park lots was being used up by taxi drivers.
We were about to give up when we saw a car pulling out from the parking lot. We rushed and managed to park just in time before 3 other cars headed the same way. The hospital administrators should seriously consider building multiple story car park at the empty spot at the back.
(Hard to miss icon of the Kota Bahru town – the Sultan Ismail Petra Arch. Unfortunately, we were chasing time, so we did not stop at this place for photo shooting but silently we promised ourselves that we will stop by the next we are in town again)
A1 was wearing short pants and as we walked towards the ward, A1 got concerned. He did not see anyone else wearing short pants and he was getting strange looks from some of the people in the hospital. The state of Kelantan was governed by PAS who rule the state in a more Islamic way than the rest of the states in Malaysia.
Perhaps it was impolite to wear short pants in public but A1 decided to ignore the cold strange looks. He had no other choice – that was the only pants he had. We were a bit early for visitor's visiting time but after the guards took one look at us – it was clear we were not locals (perhaps A1's short pants made some difference), they simply let us in without any questions.
We met our colleague in the ward and after some time, realized that time was now 1 pm. We were hungry and we also knew that we could not stay long in Kota Bahru if we intend to return home the same day. We wanted to eat nasi dagang but as we drove along the Kota Bahru town, we could not find the right place to stop and eat. We were late too.
We then found one place but there was no nasi dagang on the menu but they had nasi kukus. We decided to go for it – the sound from the stomach was just getting louder. Food was cheap and tasty (I respect the chef for the spicy dishes) despite the restaurant was small and had no one else but us.
(For a first-timer, it was quite difficult to locate this place – road signs in Kota Bahru were not clear and we had to ask a traffic policeman for directions. Despite a favourite place, parking was difficult too)
There was one more place to stop by before we headed back – 454 km back to Kuala Lumpur. We wanted to leave Kota Bahru by 2.30 pm so that we can reach early enough for some sleep for work the next day.
We had to stop for shopping for some Kelantan seafood chips at the Kota Bahru's famed Siti Khatijah Market. Despite having GPS onboard, we got lost. We wandered around and stopped a traffic policeman who on a bike at a junction. Parking once again was a problem near the famed market but we found one in time.
When we walked into the market – it looked deserted with most of the shops closed. We thought we were late and almost counted our bad luck when we asked someone and we were asked to go to the first floor.
We rushed up and saw shop after shop selling crackers and the local foodstuff. We bought plenty of seafood stuff for home and then we rushed back to the car – our mission was halfway done and we need to make the trip back.
The clouds now looked heavy now. So far we have been having good weather from the start – a bit of rain in KL but a ray of great sunshine towards Kota Bahru.
The end