.
That's right, inspired by
Din
…I am trying another attempt to lose weight. I was a bit heroic last month when I managed to
reduce 5 kg within 1 week
but temptation is just too strong for me to continue
This is also the time when my wife's cooking got better and I enjoyed eating more of her dishes.
A trip to Tesco Hypermarket couple of weeks ago was a blessing in disguise. I discovered "Tummy Trimmer Powder". It was not expensive…just RM23.90. Tasted exactly like Milo and can be taken before or during normal meal. Been taking for 2 weeks now and I can feel slight improvements.
Ya, probably I was expecting miracles but I don't mind a little help from food supplements. I have cut down the morning nasi lemaks but been eyeing the new nasi lemak shop near my house for dinners (haaa….temptations, temptations!!)

* An array of "arsenals" to fight the stubborn fats around my stomach and ahem…back(side). Bring it on brother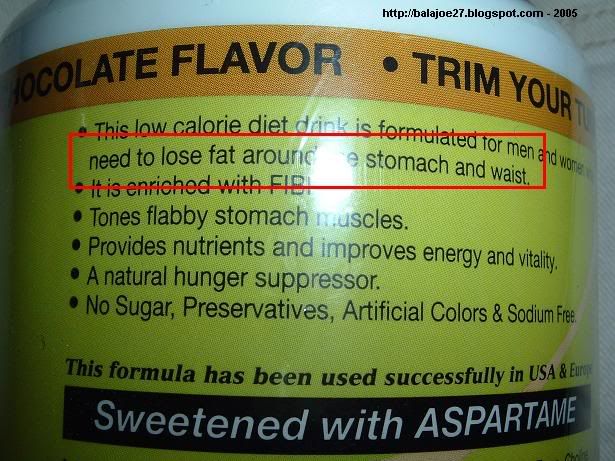 * Promising words from Tummy Trimmer…"formulated…to lose fat" "tones flabby stomach muscles", etc. I am not sure it is working for me but it is working wonders for my wife. She is actually gaining weight!

* Damn!! I can't see…something around my stomach area is blocking my view. What a bad way of reminding me that I am overweight.

* Ha, that's better! What the f@#k? This morning, the scale showed 90 kg. Now it is showing 92.5 kg! I could not just gained 2.5 kgs within couple of hours! (or is it due to the 2 nasi lemaks with sotong which I just ate)

* That ought to teach the bathroom scale a lesson on showing the "right" weight
No tags for this post.No tags for this post.