This week was quite eventful…
I was at my workplace, looking forward for a great day at work when I got a call from my wife. She normally won't call me in the morning, so I picked up the call without any hesitation. My dad had complained about breathing problem and was transferred to the IJN's emergency centre. My dad had a heart by-pass surgery almost 3 years ago and has been doing well since then. Diet was strict and my dad makes sure he does not strain himself. So, when I heard he is being rushed to emergency ward in an ambulance, I feared for the worst.
IJN is undergoing renovation – I missed the usual entrance and instead took another road towards the parking lot. The parking lot was full but I saw another sign pointing to a parking lot at the back of IJN. Parking at the new block was a breeze and cheap too (no parking ticket!).
I rushed to emergency ward and saw my mom. My dad was still under observation but after an x-ray and eliminating heart attack, my dad was discharged (but it took us almost an hour after that to get his medications). There was infection in his lungs that was causing the breathing problem. It was a slow walk back to the car park (it is not easy for me to drive back to the lobby entrance and my dad did not want to wait for long).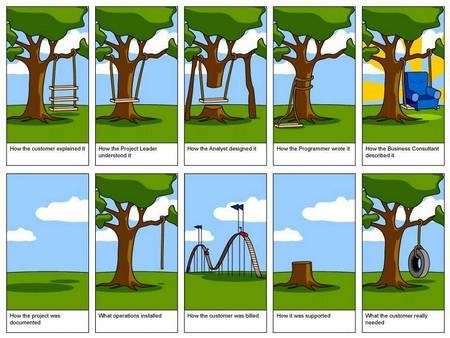 (Remember this picture? Same thing happens all over the world)
The old block and the new block housing the parking lots were connected by a simple bridge. I really wonder how people who designed new blocks and new features for hospital left out small but critical shortcomings in their design. It is apparent that it was designed and built without any thoughts to the users who will be using them – the patients''
To reach this bridge, one needs to climb up couple of stairs. Easy for active person but for a heart patient who is having breathing difficulties, it like climbing Mount Everest. It took almost 10 minutes for my dad to climb 6 steps up and another 10 minutes to climb down. At the end, he was almost out of breath and tired. Thankfully the pick-up place was not so bad – it had some chairs for him to sit down and catch his breath.
By the way, it was not easy to pick him either – he was at G floor and my car in the 4th floor. By the time I came down to 1st floor, I realised that the exit to G floor has been blocked. I had to do an illegal U-turn and cut in to G floor, pick up my dad and drive to 2nd floor and drive down to 1st floor to properly exit the parking lot.
Read Also
My Trip to IJN – Insitut Jantung Negara